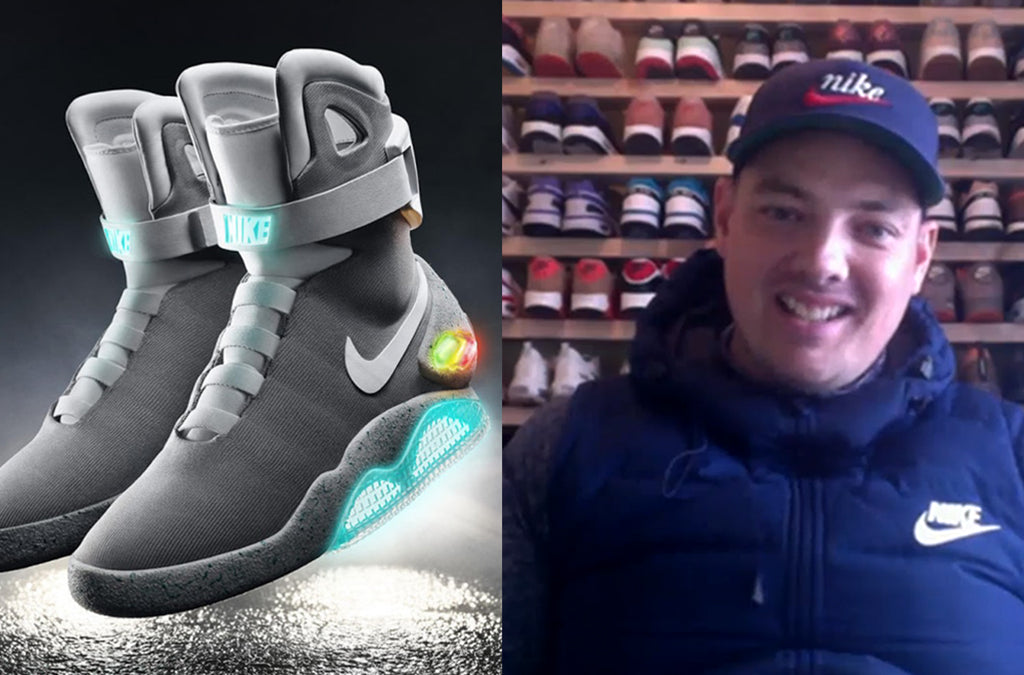 Gareth Murray joins us on the line for episode #128 of Paddy Holohan's No Shame Podcast. Gareth is the owner of Sneaker Surgery, a store that specialises in many bespoke shoe services including repair, restoration & customisation. If you appreciate a good pair of Nike Air Max, if you've recently went on a 'Last Dance' Air Jordan spending spree or if you simply prefer the classic white Continental look then this is definitely the episode you've been waiting for.
On this week's podcast Gareth tells us how retro sneakers have recently surged in popularity, with huge sums of money being spent on vintage kicks. Although the scene isn't massive in Ireland yet, it's starting to take off & Murray believes he is ahead of the curve with his Sneaker Surgery brand.
Gareth explains how he got into the shoe business. He was always a fan of decent pair of runners back in the day, however it wasn't until he moved to Australia that he realised how big the footwear scene really was. After a visit to a Nike Outlet with friends, Murray rekindled his passion for trainers & began trawling eBay, Gumtree & various platforms to grow his collection. Later he moved back to Ireland, boasting the freshest kicks in town.
Watch episode #128 of Paddy Holohan's No Shame Podcast below:


By this stage some of his trainers became worn, when he dropped them into a repair store in Dublin he was horrified by the end result. Gareth believed he could do a better job himself. He began research & experimentation, buying old worn out shoes, cutting them up & restoring them to their former glory. After a while he realised that he had a talent for the restoration process & began taking on clients & the Sneaker Surgery was born.
Anybody who knows Paddy will know how much he loves his runners, so much so he spent a chunk of his first UFC pay cheque on new kicks. However the Hooligan's impressive collection is no match for Gareth who boasts a staggering 117 pairs of shoes, many being second hand purchases he restored himself. Murray sees it as a healthy obsession, or a steady investment depending on who's asking.
On the subject of most expensive sneaker in the world, Murray believes it has to be Nike's 2016 edition of the Iconic Mag shoe. The Mag comes fully equipped with the self lacing technology made famous by Marty McFly in Back to the Future 2. Less than 100 pairs exist with a hefty price tag of 55-60,000 dollars per unit, '60G's BABY'
As things stand currently Gareth works a 9-5 job by day & operates the Sneaker Surgery by night. It's perhaps a fitting parallel to Michael J Fox's schedule for the first Back to the Future movie with the Hollywood legend also working two jobs during production of the film, rehearsing 'Family Ties' from 10am - 6pm before rushing to the BTTF set to shoot through the night. Not only does Murray own an earlier version of the Nike Mag, but he also has a tattoo of the shoe on his leg, this man really loves shoes.
The one piece of advice Gareth gives to potential customers is not to throw out their shoes, it's the biggest regret for his existing clients who have seen stunning results from the shoe surgery. So if you have an old mucky, squashed pair of Predators that are set for the scrap heap, there is still hope yet.
If Murray can't save the shoe, or make it perfect, his guarantee is that he will always make them look better at the very least. Some of the custom designs are simply stunning & given the bespoke nature of his trade he is always open to developing new ideas with his clients.
Listen | Download Paddy Holohan's No Shame Podcast below:


Ultimately Gareth's main ambition is to create a legacy that one day he might be able to pass on to his 15 month old son. We'll be rooting for him all the way.
The full episode 128 of Paddy Holohan's No Shame Podcast is available now across all the usual platforms including Spotify, iTunes & to watch on Youtube.
Anyone else feel like ordering some retro AF1's?