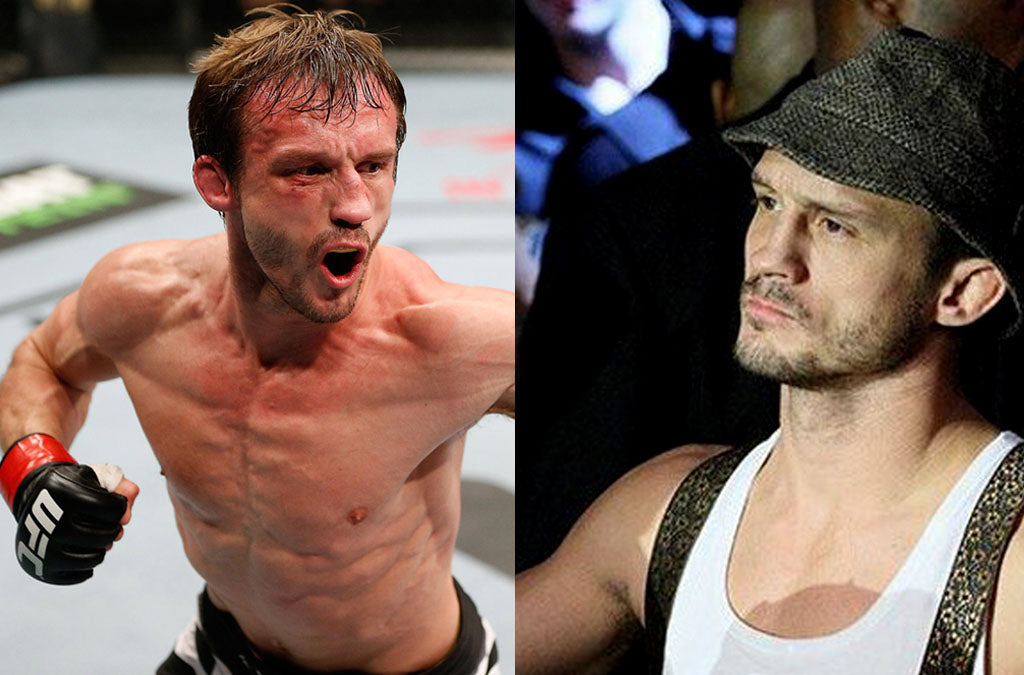 MMA Hero Brad Pickett joins us on the line for episode #127 of Paddy Holohan's No Shame Podcast. Brad is a former UFC fighter, head coach of Great Britain Top Team & considered by many as a pioneer of British & European MMA.
With an MMA record of 26-14, Pickett was one of the most entertaining fighters to grace the octagon. On this weeks episode Paddy talks about his admiration for Brad, explaining how he used to skip school as a youngster to watch ' One Punch' fight on the former MMA promotion Cage Rage. Pickett had a hard hitting style that made him a fan favourite.
Brad explains how he took inspiration from Mike Tyson's fight game. Many of the boxing legend's trademark moves such as the bob & weave, the over hand, & hook shots where all elements that Pickett adapted for his own game in the world of MMA. Amazingly throughout his entire fight career, Brad never broke a bone in his hands. He attributes this to developing good technique. Brad also had a versatile ground game to complement his stand up & admits he would have developed his wrestling more if started MMA at an earlier age.
"I was trying to beat you from the first minute to the last minute."

 
Watch episode #127 of Paddy Holohan's No Shame Podcast
Brad's first MMA lesson was at 26 years of age when he was humbled by a 16 year old fighter. Growing up Pickett had a background in cricket & soccer before boxing from the age of 19-21 but admits that MMA was by far the toughest sport he's ever competed in. His first fight was in November 2004 & less than a year later he became the Cage Rage British Featherweight Champion, defeating Ozzy Haluk via Submission.
It was around that time he started travelling to the US to train with American Top Team, developing an excellent relationship with MMA coach Mike Brown, the pair remain close friends today. In 2009 Pickett signed for World Extreme Cage Fighting after years of knocking on the door. His first Fight at WEC 45 earned him a victory via submission along with the fight of the night bonus, enabling him to spend more time training in the US. It was the start of an incredible bonus streak that lasted 5 figths into his UFC career.
In April 2010, Pickett claimed a dominant Unanimous Decision victory over Demetrious Johnson at WEC 48, one of only 3 fighters to defeat Mighty Mouse. The WEC merged with UFC in 2010 & Brad had his first fight for the premier MMA promotion in 2011 at UFC 138.
"If you're in it for the money you're in it for the wrong reasons. Money comes with success"
After going 3-3 in his first 6 UFC fights, Brad dropped down to the flyweight division defeating Neil Seery via Unanimous decision in 2014. Pickett regrets dropping down a division admitting that he was stylistically unsuited for the lower weight class. Despite having so many impressive victories throughout his career, 'One Punch' was unable to win multiple fight eliminator opportunities with many of his opponents going on to challenge for the belt. Brad's final UFC victory came in 2016 against Francis Rivera, before retiring in 2017 in his home town at UFC London. His post fight interview is an absolute tear jerker.
Brad Pickett Highlights | UFC
Brad was known for his distinct style, sporting a trilby hat, a tribute to his grandfather who was a bare knuckle fighter in the 1920's. His walk out music was Chas & Dave's Wallop, you always new when it was a 'One punch' fight.
Also on this weeks episode, Brad offers plenty of career advice for up & coming fighters along with discussing the impact of social media on today's generation. Since retiring from the UFC Octagon in 2017, Pickett has transitioned into coaching & will be in Nathaniel Wood's corner at UFC Fight Island on July 15th. Brad talks about the importance of mindset above all else. Having made the walk himself he has the emotional intelligence to understand what his fighters need & how to get the best out of them as individuals.
Brad's legacy stretches far outside the Octagon having spent his entire career passing on his knowledge to future generations. The standard in the UK now compared to the early 2000's is testament to trailblazers like Pickett who helped to pave the way.
Listen | Download episode #127 of Paddy Holohan's No Shame Podcast


On the subject of making it to the UFC, Brad insists that Cage Warriors is still the best route for British & European fighters. However 'One Punch' adds that It's not just about the the Ultimate Fighting Championship anymore. There are plenty of options for fighters to consider now with the expansion of Bellator in Europe, One Championship in Asia & other emerging promotions such as ACA (Absolute Championship Akhmat).
For some of our younger audience if you haven't checked out Brad's career, the highlights are on Youtube, familiarise yourself with a true legend of the game. For the rest, no better excuse to relive some of those epic battles that brought every single one of us to our feet, even Dana White.
The full episode #127 of Paddy Holohan's No Shame Podcast is available now across all the usual platforms including Youtube, Spotify & iTunes.