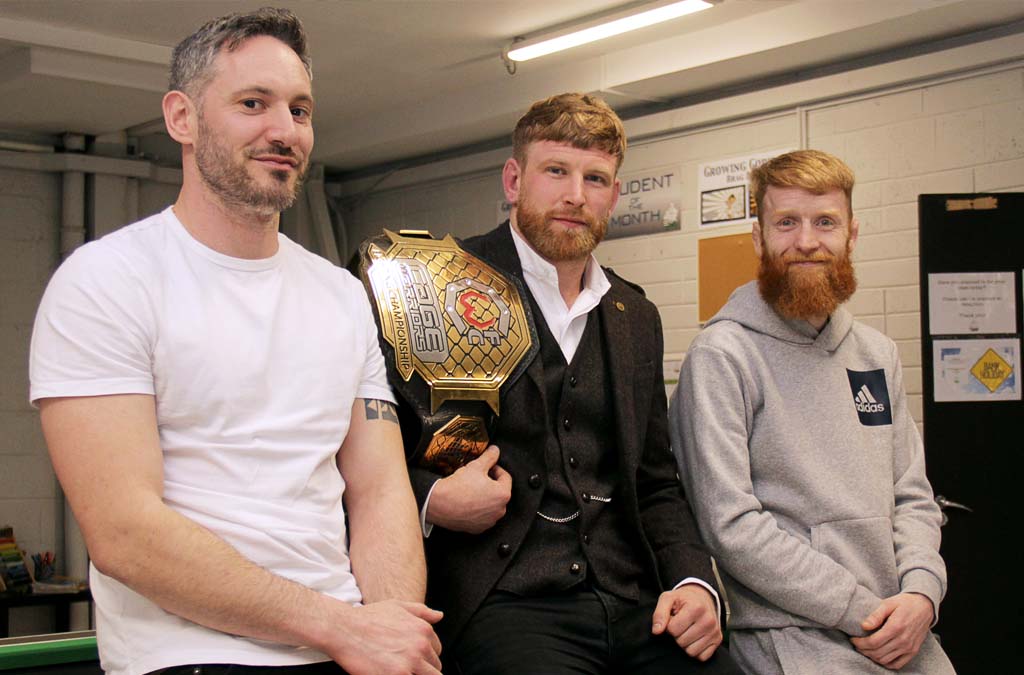 Chris Fields & James Webb join us in the studio for episode #068 of Paddy Holohan's No Shame Podcast. Chris Fields is head coach/owner of SBG Swords & recently became the first person in Cage Warriors history to win a belt as both fighter & coach, he's also making his second appearance on the show. James Webb is the new Cage Warriors Middleweight Champion after defeating Thomas Robertson via submission at Cage Warriors 102 in London.
Watch episode #068 of Paddy Holohan's No Shame Podcast below:
James is originally from Colchester, England & explains his reasons for relocating his MMA training to Ireland. He is the first fighter from the SBG Swords stable & discusses the benefits of training with the likes of Chris, Philip Mulpeter & Cathal Pendred. James commutes back to the UK weekly & literally lives in the gym when in Ireland. Webb believes it gives him a hunger that most other fighters around him don't have. One of the most dangerous things a fighter can do is to get comfortable.                                                                                                                  
Fields was an integral part of the original SBG lineup that took the world of MMA by storm & talks of how the knowledge gained during his fight career has allowed him to be a much better coach today. Chris firmly believes that you should not coach MMA if you haven't experienced it yourself. Also on the podcast Chris & James discuss the strong team atmosphere at SBG Swords & how everyone in that gym, no matter how small a role, contributed to James title success.
Webb's ultimate goal is to reach the UFC, a dream shared by Chris when he was a fighter. In an extremely topical segment to the show, Paddy & Chris discuss the recent Bellator Europe influx & debate the current MMA landscape both domestically & internationally. All three men explain how they have always prioritised their sport over money, strong core principals that haven't failed any of them yet.
Listen to episode #068 of Paddy Holohan's No Shame Podcast below:
Paddy also discusses his one time rivalry with Tom King over his allegiance to Xtra Vision, another stand out random moment on the podcast. 
It's clear to see there is an incredible bond between Chris & James. James is the first pro fighter to come from SBG Swords & there is a symmetry between the fighting paths of both men. Chris was the elder statesmen to Paddy, Conor, Cathal & so many of the fighters at SBG when they were on the rise. James has the same role at SBG Swords, with many of his team mates looking up to him. it's the circle of MMA, as Paddy calls it. 
This is an extremely relevant podcast, if you're into your MMA then you really don't want to miss this one, full episode out now on all the usual platforms, No Shame.