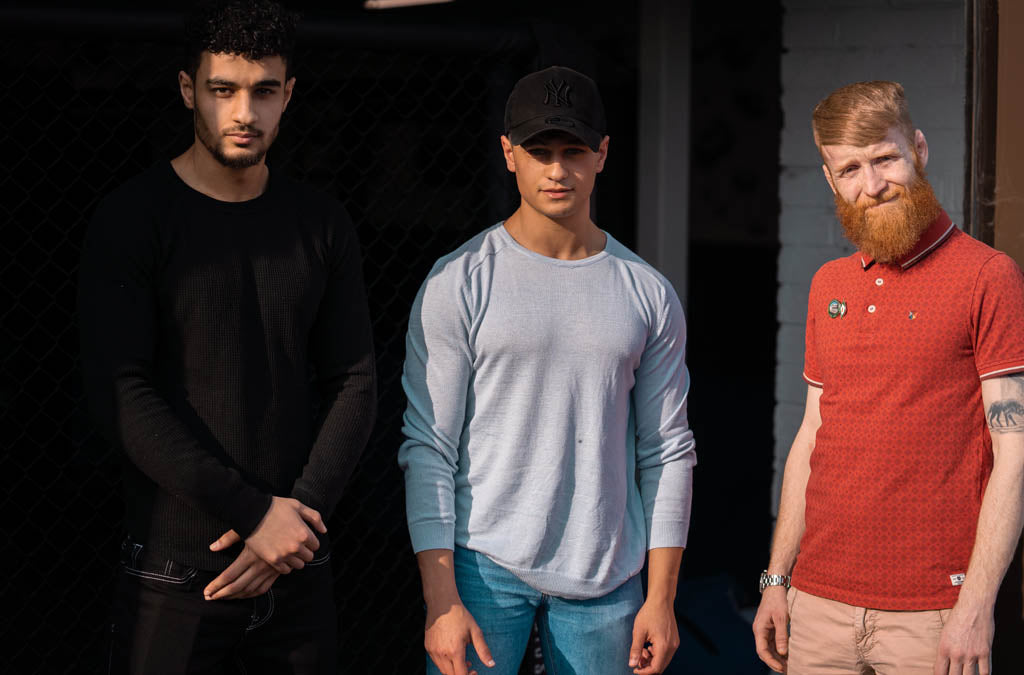 Yahya & Ahmed Buisir join us in the studio for episode #075 of Paddy Holohan's No Shame Podcast. Both brothers are proud Irish men of Libyan descent & are on the show to talk about growing up in Ireland as members of the Muslim community.
Yahya is a Dublin based videographer with an impressive showreel, working with big names such as Blessing Awodibu, 'The Showstopper' Peter Queally & a long list of Irish fighters, including the Hooligan himself. Yahya's work with Blessing in particular has gained widespread acclaim for a fresh approach to the bodybuilding industry showcasing the Boogey man's unique personality.

Both brothers have an impressive social media following & are taking the opportunity to use their online presence to help raise awareness on the misconceptions, media bias & political agendas towards both their faith & family name. Many members of the muslim community are intimidated & at times afraid to appear in public for the cognitive biases associated with their appearance.
Watch episode #075 of Paddy Holohan's No Shame Podcast below:
Yahya explains how people tell them all the time that they're not like other muslims, but they are in fact exactly like the other muslims you'll walk by on the street. The issue lies with how they are perceived by society.
Paddy discusses the similarities between the Palestine & Northern Ireland struggles & why it's never been more important to recognise that governments create stereo-types to shape public opinion, pit people against each other & distract from what's really going on.
Yahya explains that his family are one of the most respected in Libya with a political pedigree & have carried out some incredible humanitarian work particularly with the free Palestine movement. Both brother's talk about their father, Ibrahim, who came to Ireland in 1981 after being driven out of Libya by Muammar Gaddafi. It was the brothers grandfather who advised his son Abraham to move to Ireland as he believed the Irish & Libyan's shared similar struggles, describing them as 'The culchies of Europe' & a 'warm & welcoming nation'.
Listen to episode #075 of Paddy Holohan's No Shame Podcast below:

Gaddafi's regime labeled Ibrahim Buisir a terrorist, something the Irish media latched on to. Yahya & Ahmed talk about the difficulty in comprehending, as young children, why their father was making newspaper headlines. They explain how Ibrahim was never charged with a single crime & his name has since been cleared by the UN and taken off all black lists following the release of documents from the Libyan revolution. Despite this the damage from misinformation still exists & Ahmed stresses the importance of looking at the full facts before casting judgement.

Yahya discusses the dangers of Cherrypicking from the Quran & how meanings and scripture can be taken out of context to suit certain beliefs. Ahmed states that the Quran is like the Bible in the sense that it's main message is about being kind to your neighbour & talks about the true meaning of the word Jihad, which roughly translates as 'a struggle'. For example someone who is battling drug addiction will have a personal jihad of staying sober but the word has been taken out of context & is often wrongly associated with terrorism.

If you've met two lads or even seen their online content, you'll recognise that Yahya & Ahmed are two incredibly articulate, funny, proud Irishmen.

The fact both Yahya & Ahmed have often felt guilty & apologetic for terrorist attacks taking place around the world suggest that there are real issues surrounding racism in this country that need to be tackled. The age old saying of not believing what you read in the papers has never been more significant as it is today & it's where a lot of the prejudice will stem from. It pays to do your research, The information is online & you'll find the truth if you look hard enough.

Yahya is a Dublin young fella that was born in the Coombe hospital, as muslim as they come, as Irish as they come.

The full episode #075 of Paddy Holohan's No Shame Podcast with Yahya & Ahmed Buisir is available now across all the usual platforms including Youtube, Spotify, iTunes & Stitcher. Check out it out now, it's an important one.