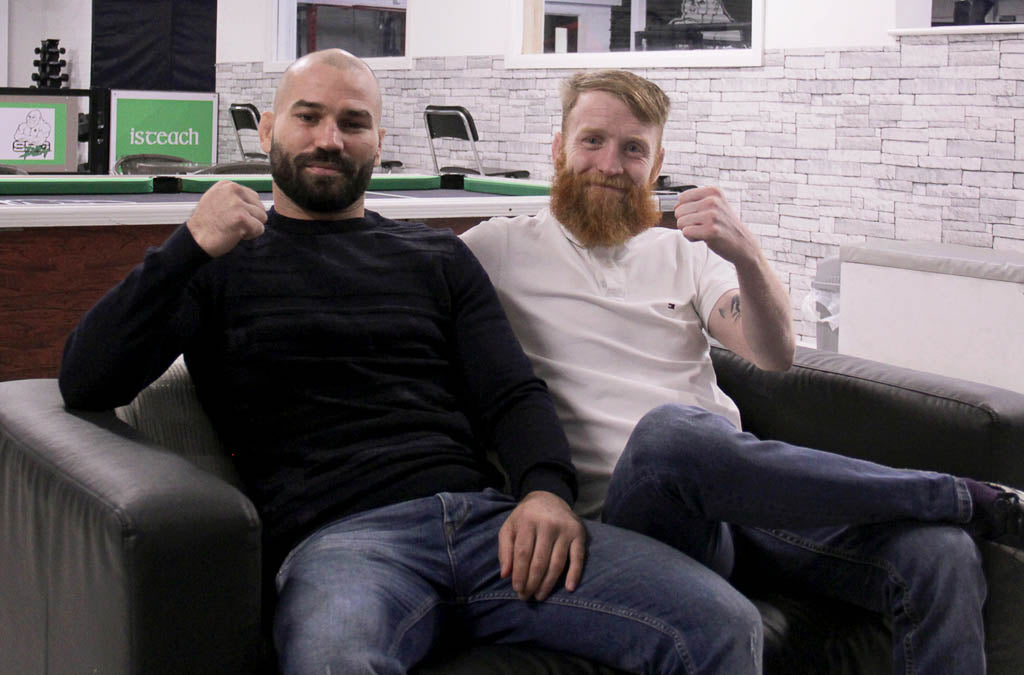 He's back! Artem lobov returns to the studio for episode #074 of Paddy Holohan's No Shame podcast. Since his first appearance on the show, Artem has become a father & discusses the joys of parenthood. Lobov, the longtime sparring partner of Conor McGregor, made a high profile switch from the UFC to Bare Knuckle FC earlier this year & tells Paddy of his plans to emulate the very first Bare knuckle champion, Irish American, John Sullivan, by claiming the BKFC Belt later in 2019.
After witnessing the birth of his son, Artem Maximus Junior, Lobov has a greater appreciation for women & explains how fighting is easy compared to bringing a child into the world, an experience which left the Russian Hammer requesting an extra epidural for himself while his girlfriend went through a grueling 38 hour labour.
Artem tells Paddy of the extra focus the birth of his son has given him, by simply wanting to spend more time at home, he's cut out alcohol in the process, improving his training regime & lifestyle as a whole.
Watch Episode #074 of Paddy Holohan's No Shame Podcast below:
Artem explains his decision to switch from UFC to Bare Knuckle & touches on that epic war of attrition with Jason Knight just a few weeks ago. He shares some insights into the fight, how he believes it should have been stopped long before the final bell & talks about the similarities between Bare Knuckle president David Feldman & Dana White, both being massive fans of combat sports. 
Artem is set to take on Paulie Malignaggi, on June 22 & explains how he finds it difficult to be worried by any threat the former WBA welterweight champion may pose. He believes Paulie's inexperience in the trade of clinch, along with his lack of relevant fight fitness will prove costly for Malignaggi. Lobov reveals that there is a big difference in cardio between Bare Knuckle & MMA, a key take away from his first BKFC fight with Knight & one that he'll improve upon for his showdown bout with the 38 year old, Malignaggi.
The Russian Hammer criticises the current state of professional boxing, explaining how the sport fails to look after their athletes financially. Artem believes the time for padding records has passed, as many undefeated boxers are broke from the lack of serious opposition. 
The Russian Hammer highlights that the amateur game is the time to learn a fighters trade & any athlete that turns professional should want nothing other than the toughest test. He believes combat sport is entering an age where fans just want to see good fights between evenly matched opponents, a reason why the UFC has thrived in recent years.
Paddy recalls some of Artem's epic sparring sessions with Conor McGregor over the years with both men going for each other & Lobov talks of the Notorious' passion for fighting, still to this day & says Conor's enthusiasm for the fight game is undiminished.
Artem & Paddy close the show by discussing performance enhancing drugs & T.J. Dillashaw's two year ban for EPO. Artem feels it should have been a lifetime ban as it goes against everything a true warrior stands for. Lobov discusses his sympathy for Cody Garbrandt & believes that half of Dillashaw's earnings, while taking banned substances, should go to Garbrandt with the other half going towards funding for better drug tests to ensure cheaters are kicked out of the fight game once & for all. 
Listen to episode #074 of Paddy Holohan's No Shame Podcast below:
Artem believes the two year suspension for Dillashaw is particularly farcical, given that the ban has allowed the american to get much needed shoulder surgery that will leave him on the sidelines for a at least a year anyway. Lobov insists that his campaign against drug cheats is only getting started & that he won't stop until more is done to prevent further use of PED's in combat sport.
So much from this week's podcast that it's impossible to get it all in on the write up. Some honourable mentions go to Gerry Vegas, the poster boy for .... hanging posters & Chris Fields' mate who nearly convinced Artem to take a bare knuckle fight in a field for €200, before it was even cool. Another relevant discussion in there too on the current state of Irish politics along with a reminder from Paddy to register to vote, your voice has never been more important.
Check out the full episode #074 of Paddy Holohan's No Shame now with the GOAT, Artem Lobov. Available across all the usual platforms including youtube, iTunes, Spotify & Stitcher.