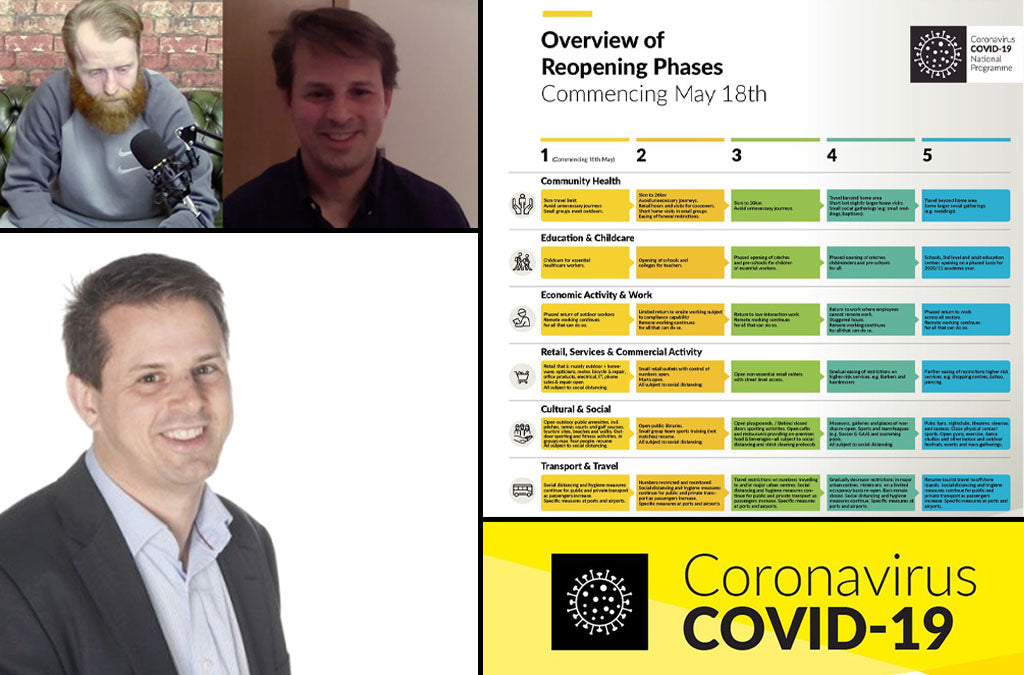 We're joined on the line by Dr. Jérôme Fennell for episode #120 of Paddy Holohan's No Shame Podcast. Dr. Fennell is a consultant microbiologist & manages infection control operations for Tallaght University Hospital. During the podcast Jérôme gives us an update on how Ireland has been dealing with the Covid-19 outbreak along with his own personal & professional experiences with the virus.
A few weeks ago, Jérôme contracted Covid-19 & tells Paddy of his experience. Dr. Fennell explains how it was different to any flu or cold he's ever experienced previously. He suffered from severe headaches, gastroenteritis type symptoms & had a fever of 39º. It took him over 2 weeks to recover & after self isolating for the sufficient amount of time he returned to work. On top of the physical symptoms Dr. Fennell discusses the psychological connotations attached to contracting coronavirus, which can lead to extreme levels of stress & emotional turmoil.
Jérôme expresses his concern at the lack of patients attending hospital for non Covid-19 related health issues. Over the past 2 months the number of reported heart attacks & strokes have fallen significantly. Dr.Fennell believes people are staying away from hospitals for fear of becoming infected, which may cause more damage in the long run.
Watch episode #120 of Paddy Holohan's No Shame Podcast
'This is like nothing else I've ever had to deal with'

 
Jérôme admits that there is still so much to learn when understanding the virus & it will take time before being able to give definitive answers surrounding topics such as immunity, infection & rate of transmission. However his existing knowledge on the subject is welcoming offering great insights while adding context to some of the numbers & theories that have been circulating online in recent weeks.
Regarding PPE (personal protective equipment), Jérôme provides detail on the bidding war between countries to obtain sought after supplies with many shipments being redirected elsewhere at the 11th hour to those with the biggest pockets. Fennell urges Ireland to become self sufficient with PPE supply to combat the risk of a shortage. Furthermore when you consider that PPE needs to be changed anytime a health professional makes contact with a patient, it adds further testament to the doctor's calls for a local solution.
Also on this weeks podcast Paddy runs through the governments 5 phase plan to get Ireland moving again in the coming weeks & months. Jérôme stresses that the plan is a best case scenario timeline & the risk of a 2nd or 3rd wave is still at large. There is hope that the warmer summer months may slow the spread of infection however Dr. Fennell reiterates that 'The virus has never given us any breaks' to date.
Listen to / download episode #120 of Paddy Holohan's No Shame Podcast
Currently as things stand, it's looking like late July/August before MMA gyms can return to a degree of normality. Paddy discusses some ideas with the doctor to safe guard the re-opening of gyms such as a 'buddy system' which would see a smaller group train together & monitor each other for symptoms. As a BJJ purple belt, Jérôme is one of many eagerly awaiting a return to the mats.
Paddy signs off this weeks episode by saluting Doctor Fennell & all his colleagues on the frontline that have put their lives at risk to get the country into a position where finally there is light at the end of the tunnel. Jérôme returns the sentiment & insists that without the publics dedicated compliance we would not be in the situation we are in now. All in all, lives have been saved.
It's always reassuring to have a professional opinion on the podcast. Jerome's honesty throughout is refreshing, reinvigorating our efforts to go the distance in this Lockdown marathon. We'd personally like to thank the doc for appearing on the podcast having come straight from a shift in the hospital to do the show.
The full episode #120 of Paddy Holohan's No Shame Podcast is available now across all the usual platforms including Youtube, iTunes & Spotify.