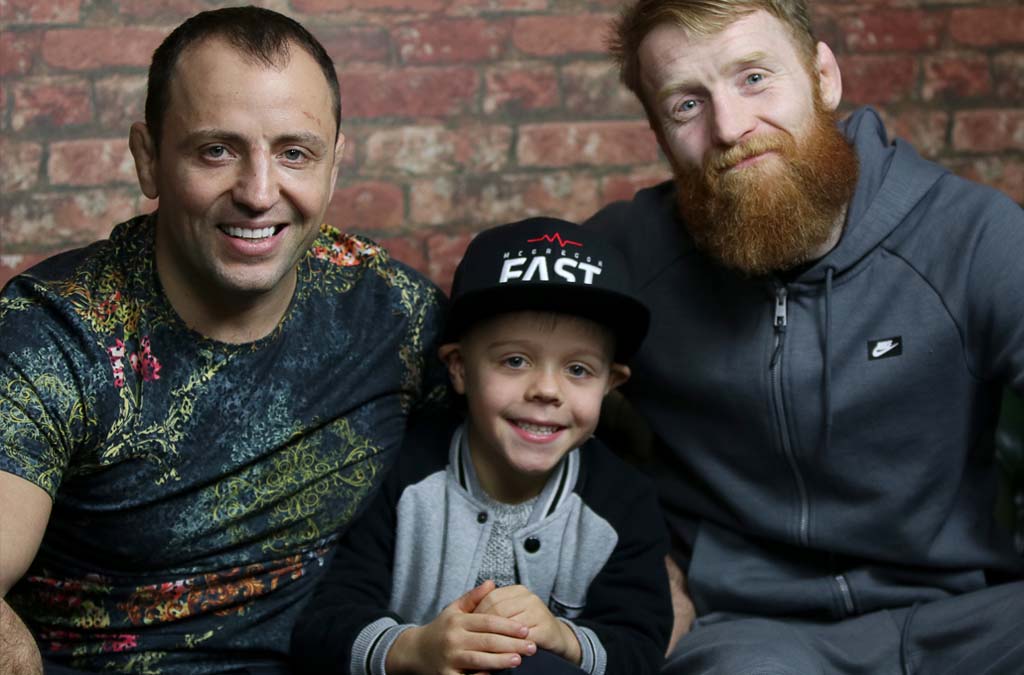 Legendary wrestling coach Sergey Pikulskiy & his talented young son Albert join us in the studio for episode #061 of Paddy Holohan's No Shame Podcast. Sergey, a head coach at SBG Nass, is the longtime wrestling coach to some of Ireland's most successful fighters, including 'the Notorious' Conor McGregor.
Pikulskiy, one of the most respected figures in Irish MMA, tells Paddy of his upbringing in Moldova & the major impact the local wrestling team had on his early life. Sergey suffered a broken back in his 20's & came to Ireland desperately seeking a more positive outlook after multiple doctor's told him he'd never be able to wrestle again.
Watch episode #061 of Paddy Holohan's No Shame Podcast below:
Amazingly Sergey found the answers he was looking for in the rebel county, Cork. However, It was there he faced an even bigger challenge, understanding the local accent. For a man who's travelled the world, coached across America, who is fluent in many languages including Russian, Bulgarian & English, Sergey explains how the Cork lingo was virtually impossible to understand in the beginning, he understand's it now though.
Listen to episode #061 of Paddy Holohan's No Shame Podcast below:
Sergey liked Ireland, it's people & their passion. After receiving successful treatment on his back, he returned to wrestling in a coaching capacity. After impressing SBG Ireland Head Coach John Kavanagh on day one, Sergey was given the keys to the iconic Long Mile Road gym & was instrumental in creating the wrestling program that would equip numerous fighters with the skills to compete in the UFC.
Sergey also talks about Conor's commitment & passion for wrestling in the early days. He would often open up the gym on his days off to train with the Champ Champ, who constantly strived to improve & get better. Pikulskiy has been in camp with Conor for all of his biggest fights in the UFC & talks about the high level of fight IQ Conor showed in the Mendes fight to navigate past a serious Knee injury with little to no wrestling against one of the best wrestlers in the 145 pound division.
Some truly incredible stories from this weeks podcast. It's clear to see why Sergey Pikulskiy is one of the most respected men in Irish MMA, the man is a class act, who is as passionate for wrestling now as he was on day one. Special shout out to Albert in his first ever interview on camera. Watch out for this little wrestling Maestro who at just 7 years of age would turn you on your head, upside down & inside out! a future champ in the making no doubt.
Episode #061 of Paddy Holohan's No Shame Podcast with Sergey Pikulskiy is out now.