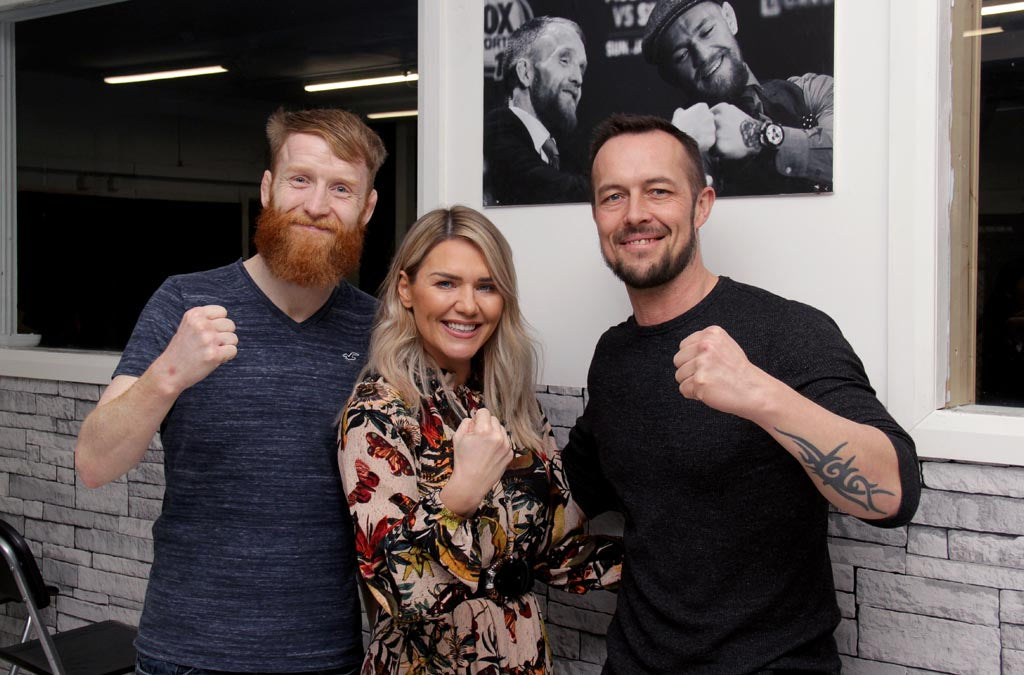 Erin McGregor & Terry Kavanagh join us in the studio for episode #064 of Paddy Holohan's No Shame Podcast. Erin, the older sister of Conor McGregor, is perhaps best known for her dazzling performances on 2018's Dancing With The Stars Ireland, reaching the semi-final of the popular TV show. Erin, who has a background in fitness & hairdressing, has also worked previously as a TV panelist & recently starred as the feisty Ann-Wha in the Olympia Theatre pantomime, Polly and the Magic Lamp.
Terry is an Irish musician & combat sports ring announcer for MTK Global's hugely popular fight nights broadcast live on iFL TV. Terry has worked as an MC for multiple promotions over the years including the 'Celtic Clash' series & Red Corner Promotions, establishing himself as a firm favourite among Irish viewers. The entertaining couple dropped by the SBG D24 studio for a chat & a catch up with Paddy.
Watch episode #064 of Paddy Holohan's No Shame Podcast below
Erin & Terry discuss multiple topics, some of which touch on the positive's & negatives of the Irish mentality, the importance of self belief, rotating stay at home duties in order to balance family life with the entertainment industry & much much more. Erin is deeply passionate about raising awareness on the dangers of social media & the damaging effects it has on youngsters, particularly teenage girls. She opens up about her own experiences dealing with online trolls & how some are people she knows personally.
Having performed as a singer for years Terry discusses how he accidentally fell into the role of ring announcer when he was asked to step in last minute for a no show MC & proved to be a natural at it. Terry has since gone from strength to strength announcing fights in some of the biggest arena's in Europe & talks about his upcoming deal with MTK in which he'll appear on at least 24 shows this year.
Erin talks about her love for dance & how DWTS helped her to regain her gritty determination, a feeling she feared she'd lost for good after the birth of her second child Harry. One of the more interesting conversations on this weeks podcast is the discussion around the relationship between celebs & pro dancers on the hit TV show. Erin tells of an hilarious story involving a lift that outlines the professionalism of the dancers & Terry offers his views on what it's like watching from the sidelines.
Listen to episode #064 of Paddy Holohan's No Shame Podcast below:
Paddy closes the show by addressing his recent announcement that he's running in the upcoming local elections in a bid to gain a seat on the South Dublin County Council. He discusses exactly why he's running & outlines his goals and ambitions for the role if he's to get in with the homeless & housing crisis being key issues.
Episode #064 of Paddy Holohan's No Shame Podcast with Erin McGregor & Terry Kavanagh is out now across all the usual platforms including Youtube, iTunes & Spotify. We really hope you enjoy this one as much as we did & please remember to like, subscribe & share if you haven't already done so. Thank you to everyone as always for your continued support & awesome feedback, No Shame.