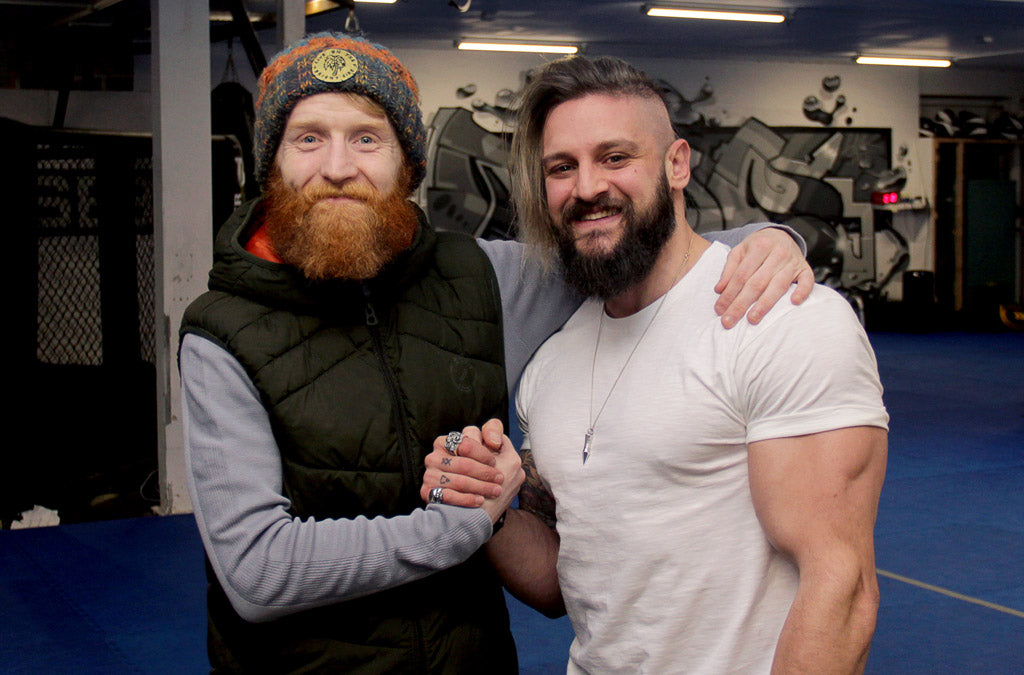 Lex Griffin joins us in the studio for episode #112 of Paddy Holohan's No Shame Podcast. Lex is an instagram & youtube personality with a background in bodybuilding, fitness & health. Operating under the name of Lex Fitness, his social media channels have racked up hundreds of millions of views, thanks to a fresh approach to documenting fitness & health. Griffin's brand is a combination of humour, education & honesty blended together to produce highly engaging, informative content.
Lex stopped by the studio during a break between filming at SBG Charlestown with head Coach Owen Roddy for his 'Street Fight Survival series'. The series takes elements from multiple disciplines in MMA, applying them to real world situations. So far the 'Street Fight Survival' episodes  have amassed 7 million views on Youtube. The mini series promotes self defence & anti bullying. Griffin covers a wide range of topics on his Youtube channel including bodybuilding, nutrition, functional training & dealing with pain. 
Watch the episdoe #112 of Paddy Holohan's No Shame Podcast
Lex was one of the very first Gymshark ambassadors, over 7 years ago, back when founders Ben Francis & Lewis Morgan were printing T-Shirts in their Garage at home. Today Gymshark is one of the fastest growing companies in the UK. The gym clothing brand approached Lex after he posted a video on Youtube where he ate a barbecue during weight cut, less than one week out from Muscle Mania, a bodybuilding competition. 
The particular video went viral after Lex illustrated it was possible to cut weight without starving yourself, with the right education & control around macronutrients. Griffin talks about taking a chance with Gymshark because he liked the people behind the brand. They where like minded & he enjoyed working with them. 
The word 'macro' is familiar to many without actually knowing what it means. Lex offers one of the best explanations we've heard on understanding macronutrients & how to control intake based on personal goals.
Although he'll tell you himself of his dislike for the word, Lex is one of the leading fitness 'influencers' in the UK & stresses the importance of never selling out, only promoting products that work, k. On this topic he talks about some of the myths & facts around creatine, protein, diet pills & many more supplements.
Listen / download episode #112 of Paddy Holohan's No Shame Podcast below:
Lex who began training MMA in his early 20's & indeed had success in a few amateur fights has not ruled out a return to the sport.
Ultimately this weeks message is all about success stemming from motivation. You have to fail to become successful but if you are doing something you love, you'll have the energy, discipline & mindset to succeed. Surround yourself with like minded people too & when you do eventually reach your goals, remember to give back, inform & educate the next wave.
It's important to say that there are some honourable mentions during the episode for cheese & pickle sandwiches, McDonald's & a €1 bag of chips, in no particular order.
The full episode of Paddy Holohan's No Shame Podcast with Lex Griffin is available now across all the usual platforms including iTunes, YouTube & Spotify.