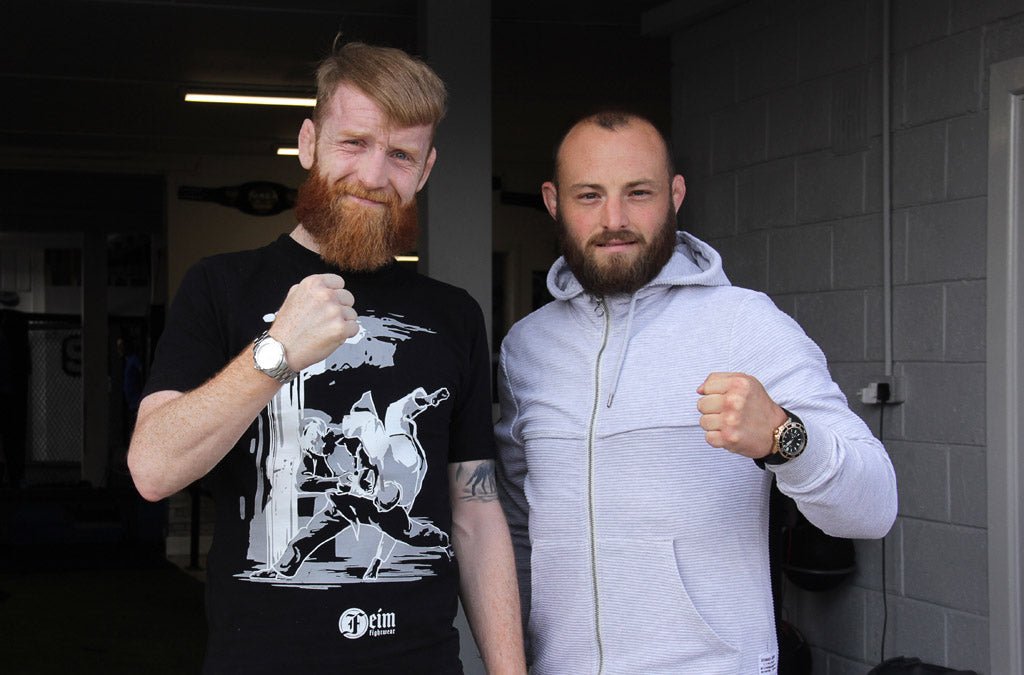 We're joined by Richie Ivory for episode #088 of Paddy Holohan's No Shame Podcast. Richie is a professional MMA fighter, coach, BJJ black belt & a former opponent of Paddy's with both men facing off in a sold out TNP Redemption main event back in 2010.

Ivory's venture into MMA began when he picked up a Ken Shamrock DVD while on babysitting duties with his then girlfriend. The Gorey native was just a teenager at the time & was fascinated by what he'd seen. The prospect of a spectacular walk out entrance was the driving factor behind his reasoning for taking up the sport & after a quick search he linked up with Dave Jones at Next Generation Gym in Dublin.
Richie started around the same time as Paddy in 'The Wild West Days' of Irish MMA. It was a time of Frost bitten mats, questionable safety standards & little to no pay per fight. Paddy recalls his own fight with Richie in which he was paid a fee of €80.
The prize money didn't even cover the cost of accommodation, a one night stay in Wexford, but it still must have been significantly higher than Ivory's purse given that he can't even remember if he was paid or not. Despite the financial issues, both men leaped at the opportunity & it's only now with the benefit of wisdom that they realise they were exploited by greedy promoters.
Watch episode #088 of Paddy Holohan's No Shame Podcast below:
Paddy reminisces on the atmosphere at some of those older venues, mainly GAA halls, & what it felt like to hear his opponent warming up in the adjacent dressing room. The Hooligan acknowledges that the crowd belonged to Ivory that night with overwhelming local support for the Gorey man. 

Richie recalls a manic start to his fight with Paddy explaining how the Round 1 pace was much too quick for a 15 minute bout. Furthermore Ivory was struggling physically after the round while a relaxed Paddy Holohan sat facing him in the opposing corner, a demoralising site for any fighter.

After a failed choke attempt at the start of the second round, Richie had expended all of his energy & Paddy capitalised by submitting his fatigued opponent. It was a difficult night for Richie but it was definitely a valuable lesson for the Wexford man & Ivory has helped used these experiences to become a better coach.
6 years ago Richie moved to Australia, while down under he remained active taking tough fights, thick & fast. Despite the success of reaching the final of a big tournament, it wasn't enough for Richie & without the advice of a head coach, he agreed to take on a 12-0 featherweight fighter just 2 weeks out from the final.
Listen to / Download episode #088 of Paddy Holohan's No Shame Podcast below:
During this fight, Richie quickly realised that he'd burnt himself out & had nothing left in the tank. He'd taken on too much too soon & suffered defeat early in the fight. The result was the same in his next fight & Richie hasn't fought since, believing the drive was gone.

Paddy describes this feeling as the place humans go when they're fed up, when they don't care about what happens in their job. The only way to combat this is to step away completely, recharge & go again. in total Richie has taken two years out of the pro game. Since returning from Australia, he believes the hunger is coming back, but now he has a successful business & admits that it's extremely difficult to balance coaching with fighting. 

We've had a lot of pro MMA athletes on the podcast over the last 2 years & every single one has offered something different. Richie Ivory delivers on this front, with vivid insights into the raw emotions an opposing fighter experiences before, during & after a fight. It truly is an engaging conversation from start to finish & great to see so much respect between to former foes.

The full episode #088 of Paddy Holohan's No Shame Podcast with Richard Ivory is available now across all the usual platforms including Youtube, iTunes & Spotify. As always, we truly appreciate all your support so please continue to like, share & theres absolutely No Shame in a cheeky subscribe either.