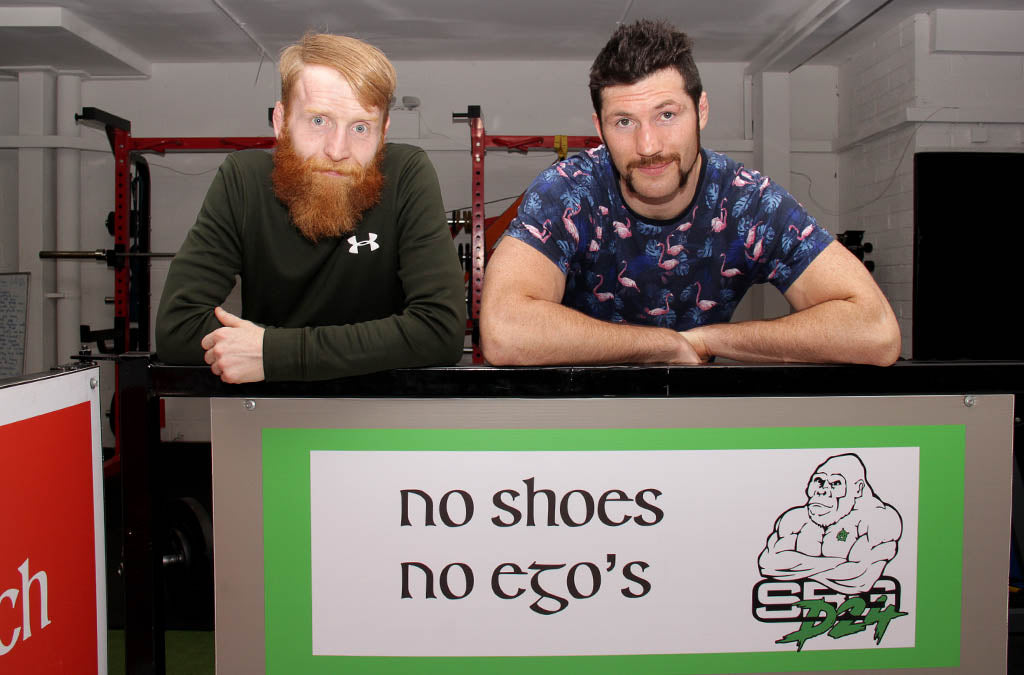 We've got an absolute belter for you this week as Will Fleury joins us in the studio for episode #083 of Paddy Holohan's No Shame Podcast. Will is a pro MMA fighter & SBG Middleweight, with a professional record of 5-1. Fleury is set to make his US debut at Bellator 224 against Antonio Jones in Thackerville, Oklahoma on July 12th.
Fleury, by his own admission, is a raw bastard & claims to have one time beat up 16 guys outside Hillbilly's. If true, it's hardly any surprise given that the Tipperary man trains with some of the big names in the game including Conor McGregor, Pedro Carvalho, Kiefer Crosbie & James Gallagher. He is an integral part of the SBG team in his own right with over 9 years experience in MMA, suffering just 1 defeat in that time frame.
Watch episode #083 of Paddy Holohan's No Shame Podcast below:
On this episode Will talks to Paddy about growing up in Tipperary. Naturally, he tried his hand at GAA, however after realising he didn't have the speed for hurling, Fleury turned his attention to rugby. It was a sport that complimented his dogged determination & he had great success with various clubs.
After suffering a foot injury while playing rugby, Will's physio advised him to take up boxing to help with his rehab & improve his footwork. It was there that Will was first introduced to the world of combat sports & the rest is history as they say. 
The idea of individual sport appealed to Will as he believed he had the right mentality to succeed on his own. He started training more & gradually phased rugby out of his life. Fleury compares the impact of rugby tackles to receiving a punch to the face, with the former being the far more dangerous of the two, in Fleury's opinion. Will explains that it took him far longer to recover from a rugby match adding that a tough spar takes no more than two days to recover from.
The Tipp native also discusses his time participating on the EFC show. The show is like the South African version of the Ultimate fighter & Fleury talks about the struggles of training at altitude. He very much enjoyed the challenge of being the fighter to silence the home crowd. However, the layout & structure of South African society was something that shocked Flury, with remnants of Apartheid still very much evident when comparing the gulf in class between white & African communities.
Listen to / download episode #083 of Paddy Holohan's No Shame Podcast below:
Fleury also discusses how to deal & deflect negativity from people in his life. In what is both a powerful & philosophical conversation, the two men discuss different methods they use to cut out the begrudgers & the haters. There are people that will always want to see you fail but it's important to focus on the goals you set & acknowledge that you have full control of your own destiny.
A good performance n just 10 days time on what will be his 3rd Bellator bout, puts Fleury in a great position to be named on the Bellator Dublin main card at the Three Arena on September 26th, in what is expected to be a sellout crowd with tickets going on sale this Friday. Fleury fought on the Bellator Dublin card prelims last February & won via second round submission against Shaun Taylor, he'll never forget the reaction from the crowd as he walked out in front of the adoring home fans. 
At 29 years of age Fleury feels now that the chance has finally come he's ready to take it & will not let it slip by.I you haven't heard of Will before this episode we urge you to check it out, you won't forget him after this podcast. In Paddy's words, Will is a hidden Gem, a man who has always stayed true to himself & never compromised who he is for anyone. Ladies & gentlemen, we give you the one & only, Will FUCKING FLEURY.
The full episode #083 of paddy Holohan's No Shame podcast is available now across all the usual platforms including Youtube, Spotify & iTunes. If you haven't already done so please remember to like, subscribe & share, You're support is greatly appreciate & doesn't go unnoticed.