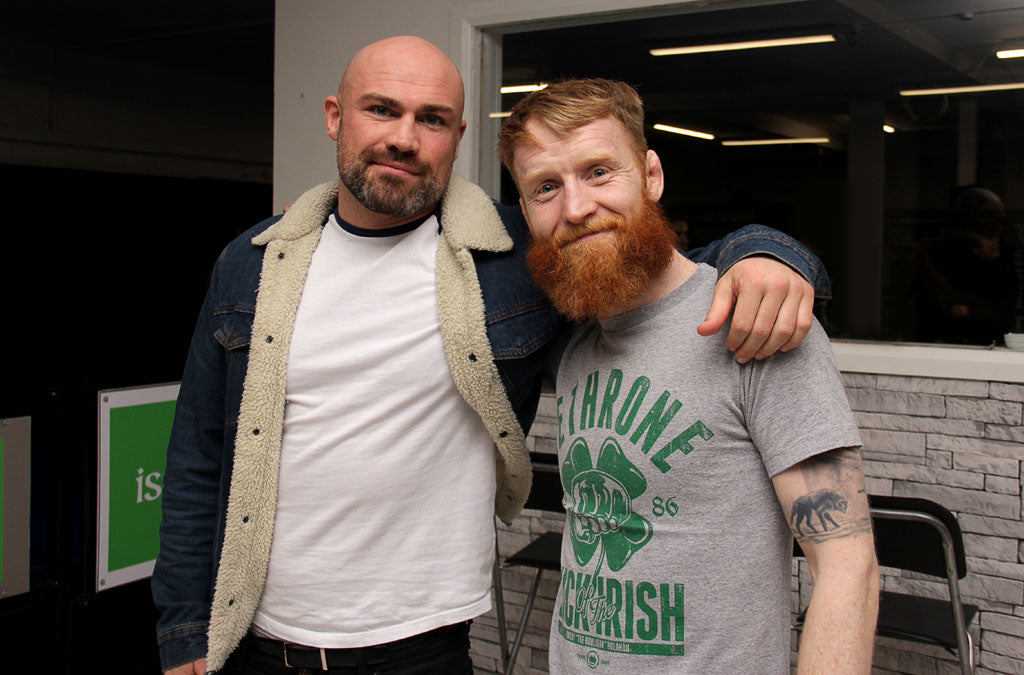 Cathal Pendred is in the studio for episode #058 of Paddy Holohan's No Shame Podcast. Cathal is an Irish actor, retired UFC welterweight, Cage Warriors Champion & former senior rugby player. Pendred also studied in DCU, has a BSc degree in Analytical Science & has his own restaurant, Chopped (Franchisee), in Blanchardstown. Is there anything this man can't do?
Watch Paddy Holohan's No Shame Podcast below:
Cathal was Paddy's team mate at SBG & the two lads take a look back on MMA in Ireland pre-Irish invasion era. Both Paddy & Cathal speak of the incredible bond that group of Irish fighters had despite the fact they all came from different communities. Cathal also reflects on becoming Cage Warriors Champion, the Ultimate fighter, the UFC & training with Conor McGregor. Fighting on the McGregor - Siver card in Boston was a highlight for Cathal, as he was born in the city & lived there for the first 4 years of his life. Cathal also fought on that magical night in the 3 arena, Dublin, (a career highlight for Pendred) & speaks of the powerful energy from the crowd that hasn't been matched since in a UFC event.
Since retiring from MMA Cathal has transitioned from athlete to business man becoming a franchisee of the healthy food company, Chopped, opening his first restaurant in Blanchardstown, Dublin in 2016. Cathal is passionate about good nutrition & talks of how it was always his end goal to set up a healthy food restaurant even when he was UFC fighter.
Pendred is definitely one to watch in the world of acting, featuring in films such as Split, Cardboard Gangsters & My Name Is Lenny, along with appearing in TV series such as Ripper Street, Magnum P.I & Lore. In My Name Is Lenny, Cathal plays the character Roofie & explains how his research/character development impressed the crew so much that the director had him improv the majority of his scene, which ultimately led to him being cast in a new movie which is released in 2019.
Cathal also had a leading role in Lore as Michael Cleary, a real-life character from Irish folklore & has quickly notched up over 14 acting credits in no time at all. Pendred, who also performs his own stunts, talks about the comparisons between film & sport, when it comes to professionalism. When you've fought on a UFC card alongside greats such as John Jones, it makes appearing alongside Dwayne 'The Rock' Johnson a whole lot easier, as he did in 'Baywatch' (although his scene did not make the final cut).
Listen to Paddy Holohan's No Shame Podcast below:
Believe us when we say there are some cracking stories on this weeks podcast. Cathal is an extremely busy man, works endlessly & doesn't do media interviews, so we were incredibly privileged to have him on the green couches this week. Episode #058 of Paddy Holohan's No Shame Podcast is out now across all the usual platforms & it's box office, check it out, let us know what you think & please subscribe if you haven't already done so, No Shame.