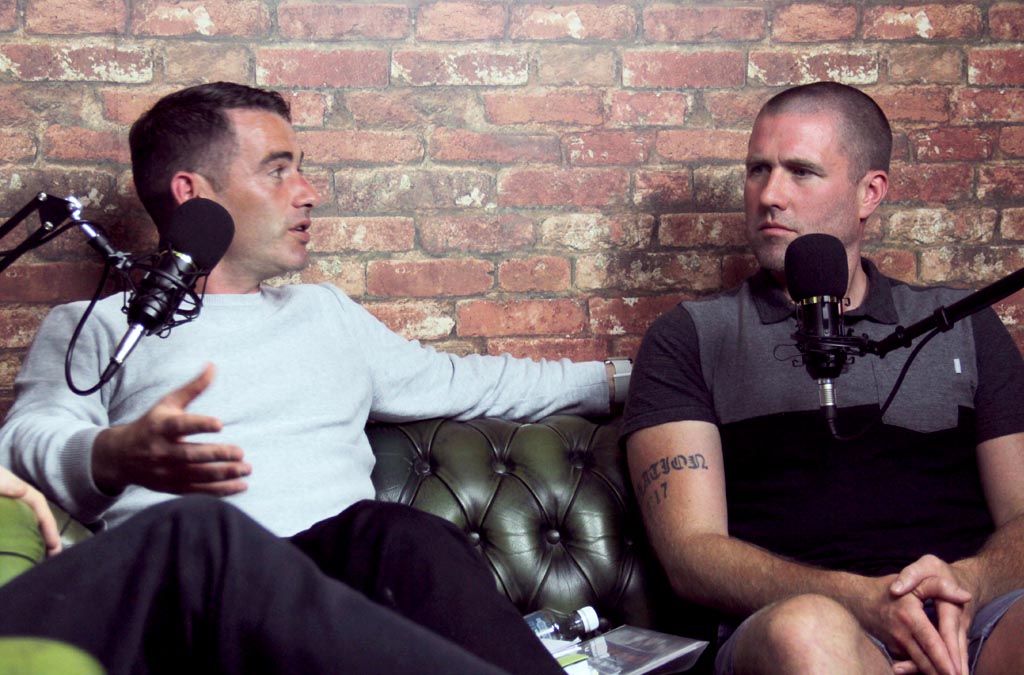 Wim Hof method instructor Níall O'Murchú & mental health outreach worker Alan Kavanagh join us in the studio for episode #091 of Paddy Holohan's No Shame Podcast.
Wim Hof is a Dutch extreme athlete, known for his ability to survive the coldest conditions in the world. Hof has 26 world records to his name & has climbed Mount Everest, Kilimanjaro, as well as running marathons in sub zero conditions.
Wim Hof credits a breathing technique, which he calls the 'Wim Hof Method' for enabling him to achieve these incredible feats. Níall is currently one of only two instructors in Ireland that is fully qualified to teach the method. 
Alan Kavanagh has an excellent understanding of social issues affecting those struggling with mental health and substance misuse. He is currently involved with the Tallaght Travellers Community Development project & during the show speaks of the many difficulties the travelling community are still facing in today's Ireland. 
Watch Episode #091 of Paddy Holohan's No Shame Podcast below:
Paddy is joining forces with Niall & Alan to launch the 'FIRE&ICE' a project which will see men partake in an 8 week course which will centre around jiu jitsu, the Wim Hof method & understanding the Chimp Paradox. The aim of the project is to give men a greater awareness & understanding of their own mindfulness & restore their happiness.
The three men will pilot the programme wit 12 participants from both settled & travelling communities  & depending on it's success will look to roll it out to larger numbers further down the line. 
During the podcast Níall discusses his own experience as an athlete when he played basketball for Ireland. Although he had aspirations to make it to the top of the pro ranks, O'Murchú ultimately never got any true fulfilment from the sport. It was his transition into Martial Arts that paved the way for Níall becoming heavily involved with the 'Wim Hof' method.
The humbling exchanges in Martial Arts gave O'Murchú a purpose & sense of hunger to get better, a feeling that eluded him in basketball. When he discovered Hof's work, he instantly fell in love with the technique, & began to study his teachings. The rest is history as they say.
Listen to / download Paddy Holohan's No Shame Podcast below:
O Murchú stresses the importance of being in control of your body & how standing under cold water for 10-15 seconds at the end of a shower can set you on a Wim Hof journey to the top of the mountain. The mountain doesn't have to be physical either, it can be any challenge you need to overcome. Attitude is everything, something so often stressed by Paddy.
Kavanagh, closes the show by reciting the Robert Frost poem 'Fire & Ice' the source of inspiration for the upcoming campaign. Alan reminds us that Frost's Poetry wasn't published until he was in his 40's. In an instant culture, it's a stark reminder that there's always time if you truly believe in your ability. it's okay not to be where you thought you'd be a 25, or even 35, it's never too late. Paddy reminds us all that Colonel Sanders was in his 60's before KFC took off.
The full episode #091 of Paddy Holohan's No Shame Podcast is available now across all the usual channels including Youtube, Spotify & iTunes. As always thank you for your continued support of the show & if you're a fan of the content please remember subscribe to our Youtube channel.